29th April 2022
Whether you've just adopted a pooch who needs a name as strong as its Force or you have a feline friend who's just out of this world, we have the names you're looking for! Get ready to be inspired by the galaxy far, far away…
Jedi dog names
The Jedi were guardians of peace and justice in the Galactic Republic which makes them the good guys. The force is strong with the names you'll find below!
Anakin
A great name for those Chosen Pets that might be a little mysterious and have a unique destiny to fill. Although, let's hope they're not seduced by the dark side of the Force…
Finn
Finn (aka FN-2187) is a stormtrooper turned rebel, and an ever-loyal friend. You might be hesitant to name your pet after a soldier who served the First Order (aka the bad guys), but we promise he's now a good guy whose heroics make Finn a great choice for both cats and dogs.
Did you know?
22% of our Star Wars fans have named their cat or dog Finn, making it one of the franchise's most popular names amongst Animal Friends Insurance (AFI) customers.
Grogu
Might not be Jedi… yet. But he's definitely on the right side of the Force. A name for those smaller cats and dogs who love to eat just about anything they can get their paws on.
Han Solo
Or just Han. Or maybe even just Solo. Known as the rogue of the skies, pilot of the Millennium Falcon, and husband of Princess Leia, it's hard to find a better name for those mischievous pets who always find time to cuddle.
Luke
One of the greatest Jedi the galaxy has ever known, Luke was able to lift the Emperor's grip on his father and free him from the Dark Side of the Force. A perfect name for those fans who want to keep their love for all things Star Wars a secret or are looking for a little subtilty.
Obi
Obi Wan Kenobi is a powerful and legendary Jedi Master who spent time as an outcast, an outlaw, a powerful general, a student, a teacher and a friend. A perfect all-rounder name for those all-rounder pets.
Did you know?
Of all the Star Wars pets we protect, 14% are named after this trusted mentor!
Rey
Stubborn, headstrong, and loyal… does that sound like your feline friend or canine companion? If so, you might want to name them after Rey Skywalker. A former scavenger turned Jedi, Rey would make the perfect name for those scrappier pets.
Yoda
A firm favourite amongst our Star Wars loving customers, this name that might suit those pets who are old souls at heart but still love being goofy at times. Do or do not. There is no try.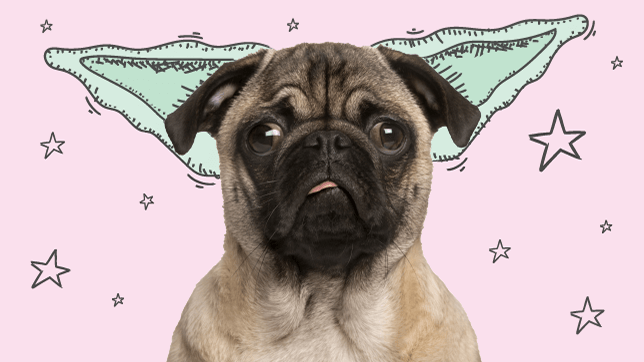 Dark Side and Sith dog names
You've guessed it… these guys are not so good, but they do have some great names for those cheeky cats or playful pups.
Darth
Sidious. Maul. Karnage. Bane. Ramage. Vader. "Darth" was a title borne by the Sith Lords and is thought to roughly translate to "Dark Lord". A name for those naughtier pets, perhaps?
Kylo
The son of Princess Leia and Han Solo, Kylo is definitely a force to be reckoned with. Be warned: if you end up choosing this name your pet might be prone to destroying things.
Other Star Wars names
If you're still not sure what to call your cat or dog, here are some of the other popular Star Wars names from the amazing pets we insure:
Chewbacca
Known as Chewie to his closest friends, Chewbacca was a Wookiee warrior, smuggler, mechanic, pilot, and resistance fighter. The perfect name for hairier pets!
Did you know?
Nearly 10% of AFI Star Wars fans named their feline friend or canine companion Chewie, making it the fourth most popular name inspired by the pop-culture phenomenon. May the fourth be with pets of this name!
Jango
Jango Fett was once known as the best bounty hunter in the galaxy, you might like this name for those calm and crafty pets who always seem up to no good but know exactly what they're doing.
Lando
Despite betraying Han and the Rebels by handing them over to Darth Vader, he does so in exchange for the promise of protection for his city and his people. Lando does end up seeing the error of his ways and is forgiven in the long run. Lando is a perfect reminder that no cat or dog is perfect!
Padme
Padmé Amidala was a courageous leader, serving as Queen and then Senator of Naboo. A fan of swimming when she was younger, this might be a good name for those pets who like water, are a little stubborn, ambitious, very determined and easily adaptable.
Poe
With roguish good looks and a heroic personality Poe is a name that would suit many cats and dogs who love adventures but stay close to those they love.
The most popular Star Wars names for pets
It is difficult to know exactly how popular the name you choose might be amongst other pet owners but to help give you a bit more insight, here are our customers' top 10 Star Wars-inspired pet names:
Yoda
Finn
Obi
Chewie
Kylo
Rey
Chewbacca
Solo
Jango
Princess Leia